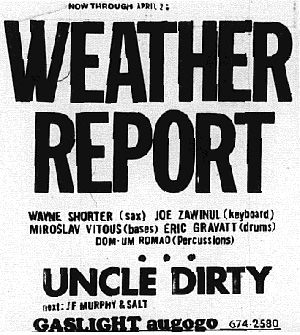 Fifty years ago today, Weather Report opened a three-night stand at the Gaslight Au Go Go, a small club of about 300 seats on Bleecker Street in Greenwich Village. The Gaslight was primarily known for folk and rock, but since taking over the old Café Au Go Go location the previous April, it had hosted Miles Davis several times, as well as the first appearances of John McLaughlin's new band, the Mahavishnu Orchestra.
This show was Weather Report's first gig of its own in New York City, where the guys all lived. The previous fall Weather Report had opened for Doctor John and the Ike & Tina Turner Revue, but that was for someone else's audience.
These were also the first shows since Weather Report had performed before large audiences in Japan, and the band probably had high hopes since the Gaslight tended to attract good crowds. It regularly advertised its gigs in advance in the Village Voice, but it appears that the club didn't advertise this one until the day Weather Report opened (see photo from the Mar. 30 issue of the Voice). The late advertising, coupled with virtually no word-of-mouth buzz, led to a dismal showing. As Joe Zawinul remembered it, there were just fourteen people in the audience as the band kicked off its first set. It was, in his words, "a disappointment." 
"The club owner was totally angry," Zawinul recalled. "We had not been announced, so the people in the Village knew nothing of our appearance. But the development was interesting. The drummer Ron Jefferson came in, a sophisticated black man whose word was greatly respected in New York. Ron Jefferson heard the end of our first set and went to see us in the dressing room. 'You are swing, you are what is happening now,' he said. Then he went back. In the second set we already had forty or fifty people. When we stopped, Ron Jefferson came backstage and said, 'I've been to every New York club and told everyone that there's a band called Weather Report. People should come if they do not want to miss anything.' When we arrived the next day to the club, the place was full. On the second set there were already queues in front of the entrance. All by Ron Jefferson."
No one from the press came to review these shows, but the three-night stand went well enough that Weather Report was invited back to the Gaslight Au Go Go three weeks later for a four night engagement. This time, the press would be well represented.