On July 19, 1971, Weather Report began a weeklong stand at the Jazz Workshop in Boston. Aside from the June appearance at Penn State, these were Weather Report's first public performances in the United States. Club gigs like this—in which the band performed two or three sets a night, several nights in a row—would be typical of Weather Report's early years until college campuses began dominating their itinerary midway through 1973.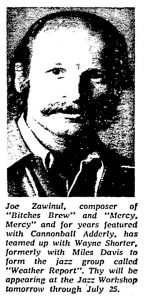 Interestingly, the advanced publicity and billing for the band's appearance favored Joe Zawinul. For instance, the Boston Globe described the band as "Weather Report (Joe Zawinul)," and the Boston Herald promoted Weather Report with a photograph of Zawinul, under which the caption read:
Joe Zawinul, composer of "Bitches Brew" [he composed "Pharaoh's Dance," not "Bitches Brew"] and "Mercy, Mercy" and for years featured with Cannonball Adderly [sic], has teamed up with Wayne Shorter, formerly with Miles Davis to form the jazz group called "Weather Report." Thy [sic] will be appearing at the Jazz Workshop tomorrow through July 25.
I think the reason for this is that Zawinul hired Sid Bernstein to manage him before forming Weather Report, after which Bernstein also took on the band. Back in those days, Billboard ran a year-end supplement called "Talent In Action," which contained an encyclopedic list of U.S. recording artists who appeared on one or more of the Billboard charts during the previous year. Each entry included the artist's recordings, awards, significant personal appearances, booking agent, and personal manager. In the December 1971 issue, Bernstein was listed as Joe's personal manager as well as Weather Report's. (Wayne Shorter and Miroslav Vitous were not listed at all.) I believe Joe's relationship with Bernstein predated Weather Report to when Joe was mulling over options on the heels of recording his eponymous album in August 1970.

Here's another interesting thing about those "Talent In Action Listings": Weather Report was described as an instrumental group of four members (no permanent percussionist?), whereas Zawinul was described as a vocal and instrumental group of five. But back to the Jazz Workshop…
Although heavy rains saturated the Boston area on Monday's opening night, the club was filled to capacity. It was a small room with a bar at one end and a stage at the other, with rows of chairs separating the two. As it was located about a half mile from the Berklee School of Music, many of those in attendance were Berklee students. One student in those days, James Bogard, described how the club catered to the school's pupils:
Berklee students with school ID were allowed to attend performances on a limited, standby basis, usually on week nights. Even though the drinking age in Massachusetts was 21 at the time, the club allowed underaged Berklee students to sit along the north wall of the room and order soft drinks. There was a cover charge [for Weather Report it was $2.50 on weeknights, $3:00 on Friday and Saturday] and a two-drink minimum per set, but this was a wonderful experience to hear these musicians we were studying and wanted to emulate. Though most of us knew we would never achieve that goal, it was very inspirational and awe inspiring to hear these masters in person.
By this time, there would have been a buzz around Berklee regarding Weather Report. Zawinul, Wayne Shorter, and Miroslav Vitous would all have been familiar names to the students (and faculty). Weather Report's debut album had already been released, and it had received write-ups from the major music magazines, including Down Beat. Consequently, the Boston Globe observed that "the music was greeted with an awed respect by the audience of young musicians," adding, "It is obvious from this week's attendances that the young have found a new sound that they like."
A curious thing about this gig is that Barbara Burton played percussion with the band. She had participated in the studio sessions that produced Weather Report's eponymous album, but most of her tracks weren't used after Zawinul invited Airto Moreira to overdub additional percussion parts. After Airto refused Zawinul's entreaties to join the band, he recommended a friend and elder from Brazil, Dom Um Romão, who joined Weather Report for its first gig at Penn State University, as well as their subsequent trip to Europe in late June. But for reasons unknown, he was replaced by Burton for this gig.
When I interviewed Burton, she remembered the Boston gig as being at Paul's Mall, an understandable error considering that the Jazz Workshop and Paul's Mall were separate rooms in the same building, and run by the same folks. They operated concurrently, with Paul's Mall booking less jazz-oriented acts. (The music rooms were in the basement; the building also housed a restaurant and movie theater upstairs.) Burton also described the gig as taking place before Weather Report's debut album was released, which is another misconception. We know that Burton played these specific gigs on these dates because a contemporaneous account in the Boston Globe cites her by name, "augmenting the drum parts with horns, scrapers, bells, and assorted gear."
While Burton enjoyed playing with the band, there were some circumstances that gave her pause. For instance, she claims to have not gotten paid. "I remember the night we played in Boston for one week, and it was so odd," she told me. "My husband, the last night, overheard Joe and the club owner discussing how they were not going to pay the band. And they didn't."
"The club didn't pay the band?" I asked.
"They didn't pay us," Burton reiterated.
"Now, who didn't pay you? Joe?"
"Joe didn't pay us for a week's work."
"What was his rationale for that?"
"Well, he said that the club owner said that they didn't make enough money, but the place was packed every night."
Indeed, according to the Boston Globe and Boston Herald, the club was full throughout Weather Report's stand. A band that didn't get paid wasn't going to be a band for very long, so there must be more to this story. Just speculating, but perhaps the full-fare audience was not so large, with Berklee students filling out the crowd at a reduced rate, leading to a shortfall at the box office. In any event, Burton's Weather Report career didn't go any further. After Boston, Dom Um returned, remaining a part of the band until late 1974.
As for the performances themselves, Ernie Santosuosso wrote in the Boston Globe:
The first impression one gets of [Weather Report's] sound is percussion, lots of it. . . . However, when you rivet your ears to the music, you discover that the group is playing three-tiered sound, certainly not simplistic, but impressive in its execution.

On one level, Zawinul operates almost unobtrusively, through undeterred. Shorter, either on soprano or tenor, plays at a higher and more discernible stage with impeccable phrasing, all the more surprising in this semi-free [Mouzon] and Barbara Burton form setting. Vitous, add still another layer of sound to this intricate kaleidoscope. Zawinul hardly dominates. If there is any one musician who commands the spotlight, it is Shorter, but his artistry and the role his reeds fill command the attention.
The Boston Herald's Charles Guiliano noted there was "none of the Adderley funkiness" that one might expect Zawinul to bring to the table. Instead, he described the music as closely paralleling Miles Davis's current group. He went on to say, "The playing of Zawinul and Shorter was always perfectly wedded. Zawinul drives the group with ethereal effects on his Fender Rhodes electric piano. He gets a wide range of textures beyond the limits of conventional keyboard, and at times tontally complements Shorter's reed work. Wayne Shorter played in a tasteful, almost sparing manner which generated its own drive."
Guiliano wasn't too impressed with the drumming and percussion, choosing to focus much of his review on Joe. "Zawinul can swing when he wants to," Guiliano wrote. "He also writes some brilliant melodies and these are the elements that are most resolved about Weather Report. At this point, some of the free-form experiments just don't hold water. Zawinul seems to know what he wants in his head but is having trouble relating it within the group, where the content is diluted in individual interpretations."
From that description, it seems clear that he was under the impression that this was Zawinul's band, doesn't it?