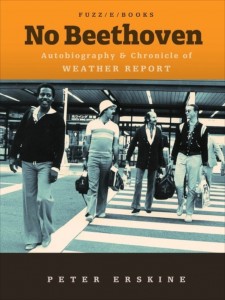 Peter Erskine has written a gem of a new book. No Beethoven is his autobiography and "chronicle of Weather Report," which he has published as an ebook, available from iTunes for the iPad. It's a must-read for Weather Report and Zawinul fans, standing shoulder-to-shoulder with the existing biographies of Wayne, Joe and Jaco. The book is packed with Peter's stories and behind-the-scene anecdotes about the band, Joe, Wayne and Jaco — not to mention tons of photos.
Those stories are artfully interspersed with Peter's narrative of his own life. As he recounts in the early chapters, he took to drumming at an early age and was something of a child prodigy, gaining admission to the Stan Kenton summer jazz camp at the age of seven despite the 14-year minimum age requirement. By the time he was 18, he was on the road with the Kenton Orchestra. Three years later, he quit to go back to school, but that was short-lived as a summer tour with Maynard Ferguson wound up turning into two years. It was with Maynard that Jaco first heard Peter, and that encounter ultimately lead to Erskine joining Weather Report in the summer of 1978.
At the time, they were finishing up the recording of Mr. Gone and getting ready for a tour of Japan. Erskine recounts in detail his first rehearsal with the band, Joe's band rules (which really only consisted of one rule); his participation on Mr. Gone; and his "homework," which consisted of book reading.
Peter's relationship with Joe is a central theme throughout No Beethoven, and his insights into Zawinul's personality are priceless. There are other books about Joe — Brian Glasser's In A Silent Way being the obvious one — but No Beethoven offers a more personal take, one that gives us a more human portrayal of Joe than we've seen elsewhere. As Peter says in the book, "[Joe] was gruff and he could be rough as well as scatological and hyperbolic in the extreme. He was also a sweet and very funny man. Easily the most intense musician I've ever know." All of that comes through in Erskine's telling.
Having said all that, this is much more than a book about Weather Report. I must admit that when I first got it, I scanned through the pages looking for the Weather Report stuff. But I wound up going back and reading it from start to finish and thoroughly enjoyed it. Peter's writing style is engaging and along the way he imparts pearls of wisdom about being a musician and about life. There's plenty of material about Stan Kenton, Maynard Ferguson, Steps Ahead, and the many great musicians Peter has worked with over the years.
No Beethoven will eventually be available for the Kindle, Nook and Sony e-readers. German and Japanese translations are also in the works, as well as a CD-ROM version of the book to be released in Japan later this year. But for now, owners of iPads have a treat in store for them.